Anyone
Anyplace
ZOLL AED's Save Lives
The Facts
40,000 out-of-hospital cardiac arrests occurring in Canada
each year

Only 10% Survive.

60% of the incidents are in-home
25% of patients in those cases have NO pre-existing health conditions or symptoms

Why An AED?
An AED can double the survival rate in the event of a cardiac arrest

Cardiac arrest survival rates drop by 10% with each passing minute

Emergency Services responses Times can take 4-8 minutes
Why Us
We have over 25 years of first aid training experience, so you can be confident you are getting the same quality device we have at our facility AND you'll know how to use it if you have to

Depend on us down the road to update your skills and your equipment
Get Your Device & Your Training From Shendy's
Shendy's has been using Zoll Medical's defibrillators as precautionary facility devices & training devices for over 5 years! Now, because of the work we do in first aid and lifesaving training, we have been chosen to be provincial distributors of Zoll's market-leading AEDs (Automated External Defibrillators).

We are now able to offer business, home, and cottage owners the ability to make an investment that can more than double the chances of cardiac arrest survival, should someone suffer a cardiac arrest on your site.

AED's are low maintenance, affordable, and make a difference; but they need to be available to help. Don't wait to suffer a loss, or another loss before you invest in one. Get in touch with us right now instead.

3 Steps To Get Started:
Step 1:
Contact Us Now
Step 2: Quick & Free Consultation
We are with you every step of the way, to make sure your questions are answered by certified experts.

Step 3: Get Trained & Your Device
It's not enough to have it. You have to know how to use it. With over 25 years of first aid training, we understand how to train all types of users and tailor our training to your needs. our experts also work with you to establish routines to ensure you and your device will always be ready in an emergency.

Contact us Now
For More information
The Zoll AED 3 has innovative prompting features making it the leader in providing rescuers with the most comfort and confidence of any AED device. The Zoll AED 3 has also been designed to offer its owners the lowest cost of ownership and easiest level of maintenance and accessibility.
Getting Trained
With over 25 years in experience, Shendy's Swim & First Aid Center doesn't just sell you an AED and waive goodbye. Instead, our experienced trainers ensure you know how to use it, and are aware of how to keep your skills and your equipment up to date. We can train you at our state of the art facility, or at yours - and we offer private, group, and virtual remote training.
Contact us
Covid-19 Has Increased The Need For AED's Everywhere
A study in the U.S showed One in three people with COVID-19 has heart disease. (American Heart Association website, Aug. 10, 2020, https://bit.ly/3pMNRQ3. Accessed 28 Oct. 2020.)
CONTACT US
Help Your Family, Help Yourself.
Bystander response has dropped by ~ 10%
Emergency Services response time increased by ~ 1
Survival rates of outside of hospital cardiac arrest have plummeted by ~50%

(Uy-Evanado A, et al. JACC: Clinical Electrophysiology. 2020 Oct 28. Doi: 10.1016/j.jacep.2020.08.010)
(Puntmann VO, et al. JAMA Cardiol. Published online 27 July 2020. Doi:10.1001/jamacardio.2020.3557)
CONTACT US
Zoll AED 3 // Nothing Else Like it
✔ Enhanced Real CPR Help includes industry-firsts such as a full-color display with vivid rescue images, a CPR cycle timer, and a large, color bar gauge that shows CPR compression depth.

✔ Unique, Integrated Pediatric Support treats adult and pediatric patients with a single CPR Uni-padz® electrode. Activate child mode (& use the same set of pads) for a pediatric rescue.

✔ Integrated WiFi Connectivity enables automatic reporting of device status, giving rescuers the confidence of knowing the AED is ready in an emergency.

✔ Long-Life Consumables increase readiness by reducing the frequency of maintenance.
Contact us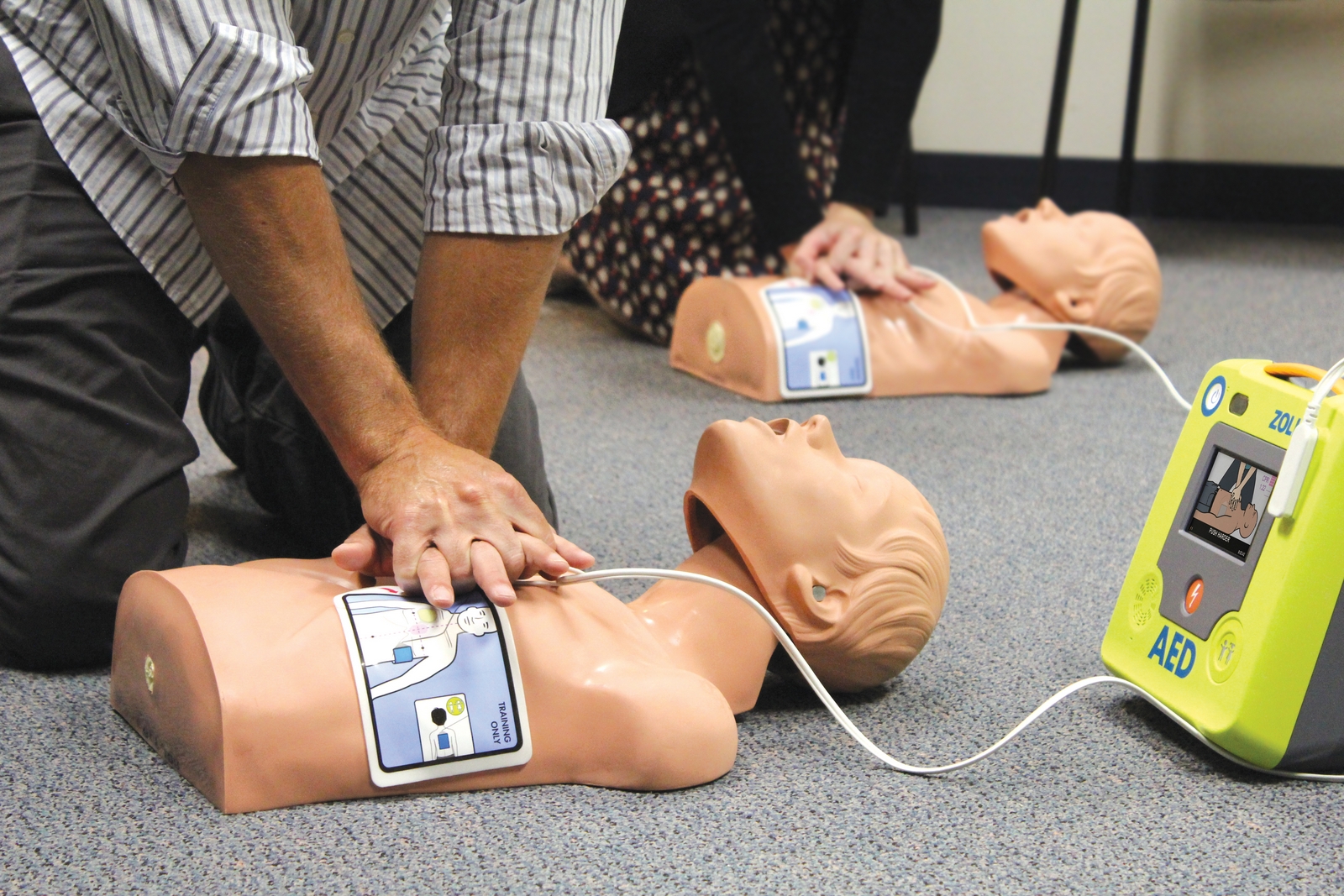 Learn about our bundles
Our experienced trainers are ready to help you. We will guide you step-by-step through the entire process to ensure that you have the right equipment and training for your home, cottage, and business.

We take lifesaving very seriously, and know that for some, this is a very sensitive decision. We operate with discretion to offer as much comfort as possible to you, your family, and your staff.
contact us
We take lifesaving very seriously.

It is our mission to make Canada a safer place, and that is why we train thousands of people a year in
first aid.

Together we can make AEDs more accessible to ensure that when they are needed, they are there.
What is a defibrilator
When someone suffers from a cardiac arrest, an Automated External Defibrillator, or AED, can be used to analyze a victim's heartbeat and provide a shock to try and restore the heart's normal rhythm. Old-school defibrillators could only be used by trained professionals, but AEDs are much more user-friendly today, and provide voice prompts that effectively guide the rescuer towards saving someone's life. Old-school defibrillators allowed paramedics and other trained professionals to be life-savers, but AEDs allow both trained and even untrained individuals to be lifesavers. Having one in your home, cottage or business allows everyone to have the tools needed to save a life in the worst case scenario.
What is sudden cardiac arrest
Sudden cardiac arrest is when the heart suddenly and unexpectedly stops beating properly. It is actually considered an electrical malfunction in the heart's electrical system. This malfunction causes the heart to be incapable of pumping blood to the brain and other organs around the body. This ultimately causes the victim to collapse, stop breathing, and can eventually lead to death.
What causes cardiac arrest?
There is a stigma out there that if you are fit, young and healthy you are not at risk of SCA, yet this stigma is completely untrue. Although SCA is more commonly seen in people who have heart or artery disease, it can actually happen to anyone of any age at any time. This can be due to drug use, electrocution, sudden blows to the chest or random electrical malfunctions such as ventricular fibrillation. That last one is the scariest, because it can truly happen to anyone, anywhere at any time. It's when the heart quivers and its normal rhythm is impaired. It can no longer pump blood throughout the body, and causes the victim to collapse.
We Trust Zoll
When it comes to defibrillators, there are many devices out there and we truly believe that Zoll is the leader. The Zoll AED 3 with its interactive display provides voice, picture and text prompts that guide the rescuer step-by-step to saving a life. Even untrained individuals can save a life with this device. Its Real CPR Help analyzes the depth and rate of compressions that the rescuer is performing to give real-time feedback to the rescuer. In terms of ownership costs and responsibilities, Zoll's uni-padz are the only ones on the market that are capable of being used on both adult and children, so only one set of pads is needed. The uni-padz also have the longest shelf-life of any other defibrillator padz: 5 years. Conveniently the defibrillator's battery has the same shelf-life and is the only other component that requires regular replacement, making ownership very cost efficient and stress-free.
+Previous
+Next